Air hostess jumps to death: What Prashna Shastra Foretells ?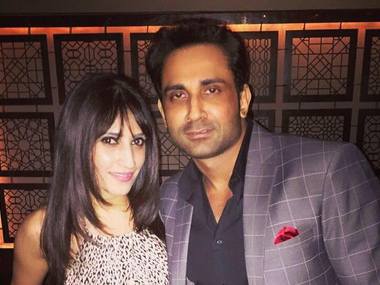 Air hostess jumps off terrace in South Delhi, family alleges dowry death  Read more at:
http://timesofindia.indiatimes.com/articleshow/65001556.cms?utm_source=contentofinterest&utm_medium=text&utm_campaign=cppst
Nut shell of the events as per this link
As per link https://www.msn.com/en-in/news/crime/dowry-death-case-filed-after-airhostess-'jumps'-from-terrace/ar-AAA7y3F?li=AAaeRVN&ocid=spartanntp
Two days after a 39-year-old airhostess, Anissia Batra, allegedly committed suicide by jumping off the terrace of her Panchsheel Park home, friends and family alleged she was murdered by her husband. Standing outside Hauz Khas police station on Sunday, they claimed her husband, Mayank Singhvi, took her to Max Hospital, where she was "declared brought dead".
On Saturday night, police had filed an FIR under IPC Section 304B (dowry death) but are yet to make an arrest.
Deputy Commissioner of Police (south) Romil Baaniya told The Indian Express, "After we got a complaint from the victim's family that her husband would harass her, we filed an FIR under IPC section 304B. Since it's been less than seven years since they got married, an SDM inquiry has been initiated."
A police source told The Indian Express that they are speaking with "a labourer next door who claims to have witnessed the incident".
The FIR alleged Anissia was being assaulted since the early days of her marriage, with "marks on her body when she returned from her honeymoon".
On June 27, Anissia's father, a retired Army major, had filed a complaint at Hauz Khas police station expressing concern for her safety, before he left for Chandigarh.
Since the exact time of the event is not known I will use Mook Prashna parameters to find the time of the event keeping in mind that it is a jeeva query for Odd Lagna and in the 9th Navamsha  works out to 15-00 hrs. The Chart is below.
The day is friday and the Lord is Venus placed in the yama of Virgo the Debilitation sign and the yama Lord Mercury is placed with Rahu and Moon in the sign Cancer where Gulika is Placed . It may be noted here that since as per Jaimini Sutra Rahu here is Dara Karka  and in Forward Motion with Mercury and Moon having aspect of Mars in retrogression is most malefic Parameter for the death of the female. The Planets which acquire an important dimension are as follows.
1. Rahu in forward motion with Mercury and Moon who has just entered the 10th house where Gulika is Placed . 
2. Mars signifies upper storey of the building and connected to Moon , Mars is also the 7th Lord and Influences the Moon is crystal clear of self immolation , Moon with Rahu death by suffocation or by poison  Moon with Mercury death by hanging is also possible. The Most important Planet at the time of the event after Rahu is Moon since it has just shifted to the sign Cancer , hence it was under the influence of the Planet Saturn and Moon and Saturn are significators for Suicide  and Since she had decided to commit a suicide she had given a message on the mobile Rahu and Mercury  for the message and Mars  since the 7th Lord  forced her to jumps to death from a upper storey . Mars Debilitates in the 10th house hence Spouse is responsible for the death of the Girl 
3. Mars and Venus were in 1/7 axis and both in Rahu-Ketu axis from the 8th June to 4th July 2018 and after which Mars and Venus were in 6/8 axis and after 4th July  2018 there was physical abuse on the native is crystal clear.
4. Look at the Lagna Degrees in Libra 28.42 and the same degrees from where Jupiter became Retrograde on the 9th March 2018. At the time of the event Jupiter was Stationary and turned direct , since it is the Karka for Husband for the females it has an important role and Jupiter retrograded in the Rahu Nakshatra on the 19th June 2018 hence after this Date to 11th July 2018 was a period of anguish and pain for the married life and she was even physically abused as mentioned above. She may have been tortured for dowry also. Since Jupiter is Karka for wealth and stationary. Jupiter is the 3rd and the 6th Lord for the Chart . This also indicates that at the time of Marriage on the 23rd Feb 2016 there were adverse planetary positions of Rahu,Moon ,Jupiter and Venus. We will also see the chart of 23rd Feb 2016 .
5. There is Poorna Ithasla  and a Rudda yoag of the Lagna Lord , 8th Lord Venus with Saturn the Karka for Longevity  who is Retrograde  and placed in the 3rd house and aspects the Sun Saturn is also considered to be Lord of Gulika . 
6. 27th June Saturn was the nearest to Earth and at 180 degrees to Sun the 11th Lord was another Date for dispute in the marriage and could also be related to Dowry and the spouse along with his parents must have tortured her for the same 
From the above it crystal clear shows that the native was not pulling on well with the husband who tortured her and abused her physically and demanded dowry. Amazingly the Planetary Positions at the time of Marriage are also worst and show that the spouse was earlier Married and this was his second Marriage .The Affliction to Jupiter at the time of Marriage makes the reason for the death of the Native for Significations of Jupiter and hence wealth and dowry. Jupiterand Moon  are eclipsed with Rahu in the 11th house where at the time of the death Venus the Karka for Marriage is placed 
Have a Look at the Chart of the 23rd Feb. 2016 with the same Lagna and the same degrees below  at the time of Marriage 
The Planetary Positions adverse at the time of Marriage are as follows 
1. Jupiter the Karka for Husband totally eclipsed with Rahu degree-wise  See the degrees of Rahu and Jupiter 
2. Rahu is Dara Karka and also in Forward motion which is most malefic for Marriage relations for any activity related to marriage 
3. 7th Lord Mars Spouse Placed in the 8th from the 7th house and house of 2nd Marriage and afflicted by Saturn , Mars has Just changed sign and most important planet in the chart since it is also Debilitated in navamsha 
4. Venus is afflicted , Venus in Dagda rashi and as the Lagna Lord and the Karka for Marriage 
5. The Marriage took place 14 days before the Lunar Eclipse on the 9th March 2016 and Now the Girl died just 14 days before the Lunar eclipse of the 28th July 2018
The Planetary positions were most malefic specially the Rahu in adverse motion, Jupiter and Moon totally eclipsed by Rahu and when this Jupiter comes in the sign Libra the Lagna of the Time of Marriage and touchs the Lagna Degrees 28-29 will be most venomous time frame for the marriage. Jupiter retrograded and became Stationary at these degrees on the 9th March 2018 and Jupiter retrograded in Rahu Nakshatra on the 19th June 2018. This Time frame must have escalated the demands of the spouse for wealth and dowry. The Planetary Positions at the time of Marriage are most venomous specially of Rahu Moon and Jupiter and Rahu was in adverse motion at the time of the Marriage and the time of the event . As per Jaimini sutra when any planet is Retrograde then Rahu becomes the Dara Karka and Rahu is also the Upkarka for Marriage and should not be afflicted at the time of any Marriage event  and such Rahu has the capacity to ruin the Marriage and we have seen in the above case crystal clear. I will like to advise all my readers to avoid thiese malefic planetary positions specially of Rahu and Jupiter for Marriage events . 99/99 % astrologers are not aware of these combinations and the malefic yoga since Parashar Jyotish does not give any commentary on this malefic yoga
14th April 2018 When Saturn was Stationary mother came to Delhi for Violence by the spouse of the Daughter indicated a lot , since at the time of Marriage Saturn aspected the Rahu , Moon and Jupiter and at the time of the Death Saturn again aspected Moon just before the event 
Famil;y gave BMW and Diamond Ring to Spouse of the Airhostess who killed her self  https://www.msn.com/en-in/news/crime/family-gave-bmw-diamond-ring-to-husband-of-delhi-air-hostess-who-killed-self/ar-AAA8Hne?li=AAaeRVN&ocid=spartanntp
Will the Spouse be punished or not
Moon is with in 12 degrees of Sun and in the 10th house , Moon and Mars 2nd Lord  there is a Tajik aspect and with in the orbit of Moon , hence the Culprits will be caught.. Planet which gets debilitated in the Kendra is Jupiter hence the Spouse is the culprit for the death of the Girl. The Navamsha Rising is of Mercury and afflicted in the Chart hence with in 2×7 = 14 months  will be most malefic for the Spouse  
anil aggarwala BSc. Engg. P.E.C Ch.  Jyotish Acharaya , Research  BVB New Delhi Year 2007 to 2012
Written on 16th July  2018  14.30 hrs 
Award Winner in Research in Astrology in Bhartiya Vidhya Bhawan New Delhi
Email: astrodoc.vedicastrology@gmail.com
Facebook  https://www.facebook.com/astrodocanil/
Writer of Articles on Star Teller, Modern Astrology, The Planets & Forecast, Times of Astrology, Research Magzine of
All India Association of Astrologers, Journal of Astrology, Saptrishi Astrology, The Astrologic Magzine of Joni Patry of US
For My True Predictions, Expert Advice, Viewer Comments, Teaching and Consultation  go on the Home Page and Click the Relevant Option
Financial Astrology Specialised  Teaching Please contact me on +918527884764
What App Number +919810038903, +918527884764 Skypee ID aggarwalaanil
My Interview On the YouTube  https://youtu.be/T5p-GkWZLjw
My Interview in Singapore  On YouTube https://youtu.be/xrnXlAbx08k
My Interview https://www.youtube.com/watch?v=xrnXlAbx08k&t=1439s
My Interview by the Express Star Teller Magzine published in Sept. 2017 edition on the page 44 link on my webpage https://www.astrodocanil.com/2017/08/natal-chart-reflects-past-karmasdeeds-of-the-present-life-can-be-effectively-depictedonly-through-prashna/
My Article In THE EXPRESS STAR TELLER Garbshishta Planets Play Prominent Role in Life Page 32 March 2018 edition
My Articles In the Astrology Magzine  ASTROLOGIC MAGZINE of US My Article "Ammunition Dump Mars, Roman God Saturn and Nodes What They Have Up Their Sleeves in 2018-2019 ?" in the Leading Astrology Magzine of US Astrologicmagzine link http://www.astrologicmagazine.com/ammunition-dump-mars-rom…/
Disclaimer Clause applicable as mentioned in the Home Page and the Writter does not take the responsibility if any one investa according to the Above Predictions , in that case he would be doing it at his own risk and fancies